PAST EVENTS
NAHS at the North American Agroforestry Conference June 28-July 2nd 2021
Hedgerows and Hedgelaying Webinar
Wednesday 7th July 10am-12pm EST
North American hedgerows, also known as fencerows, shelterbelt or windbreaks, are diverse in structure and usage, but usually, little or no management is regularly undertaken. 'European'-style hedgerows planted with management in mind were established by early settlers who wanted to recreate their homeland landscapes and protect soils. By the twentieth century, they had all but disappeared, primarily due to the modernization and intensification of agriculture.
Hedgerows have received more attention in North America recently because of the rise in interest in agroforestry and socio-ecology (homesteading, transition cultures, localism and sense-of place) resting on evidence for the growth of ecosystem services delivered by hedgerows.
In this webinar from the North American Hedgerow Society, we will visit projects in Canada and the US where hedgerow planting and management using traditional hedgelaying practices has recently taken place. Following this will be a panel discussion with practitioners, researchers, and landowners from North America and Europe who will respond to invited questions and audience discussion.
WEBINAR RECORDINGS
Hedgerow Webinar Part 1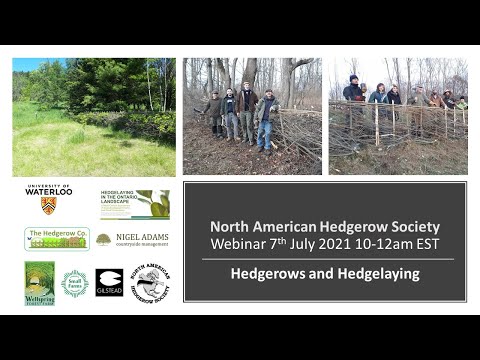 Hedgerow Webinar Part 2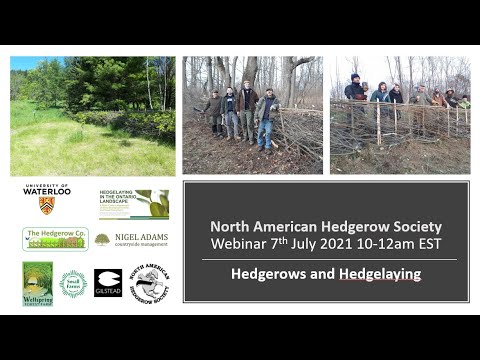 1. Presentations (30 mins)
We will begin this webinar with short presentations on initiatives in North America where hedgerows and being managed for their benefits for people and wildlife:
• The Hedgelaying In the Ontario Landscape project began at the University of Waterloo in 2014. In 2016 the project hosted demonstrations and talks with 3 European hedgelayers Nigel Adams, Jef Gielen and Jim Jones. Jim returned in 2018 to run the project and now is a PhD student at Waterloo. The project has planted km of hedgerow, trained new hedgelayers and recently spawned a start-up business, The Hedgerow Co.
• Wellspring Forest Farm, Ithaca, New York. In 2019 Wellspring hosted two days of hedgelaying training as part of an inaugural North American Hedgerow Society event in the US and Canada. Steve Gabriel will take us on a tour of the layed hedges and discuss how hedgerows work in his silvopastural system. Steve is an Extension Specialist for the Cornell Small Farms Program focused on mushroom production and agroforestry. He co-authored the book Farming the Woods and in 2018 authored Silvopasture.
• Topsy Farms Rewilding Project, Amherst Island, Ontario, presented by Jacob Murray. Founded in the early '70s by hippies who abandoned their dream of building a geodesic dome in favour of raising livestock, Topsy Farms has become known mainly for its sheep, its permaculture practices and its extended community. Inspired by David Attenborough to rewild the farm, one of the habitats they include is a living fence planted and managed by The Hedgerow Co. Part of their funding is coming from an innovative Rewilding: Sponsor a Meter of Hedgerow campaign.
2. Expert Panel (30 mins)
• Jim Jones University of Waterloo/ The Hedgerow Co., Canada
• Steve Gabriel Wellspring Forest Farm/ Cornell Small Farms Program, US
• Nigel Adams Nigel Adams Countryside Management, UK
• Meghan Giroux Interlace Agroforestry, US @interlaceagroforestry (Instagram)
• Jacob Murray Topsy Farms, Ontario, Canada
We will ask attendees to submit questions in advance for the Panel. Please submit questions ahead of the webinar to Jim Jones at the email adress below.
3. Discussion (20 mins)
The Panel will take some questions from the audience present.